Regional, local schools finding healthy, local options for lunch programs | Healthyhabits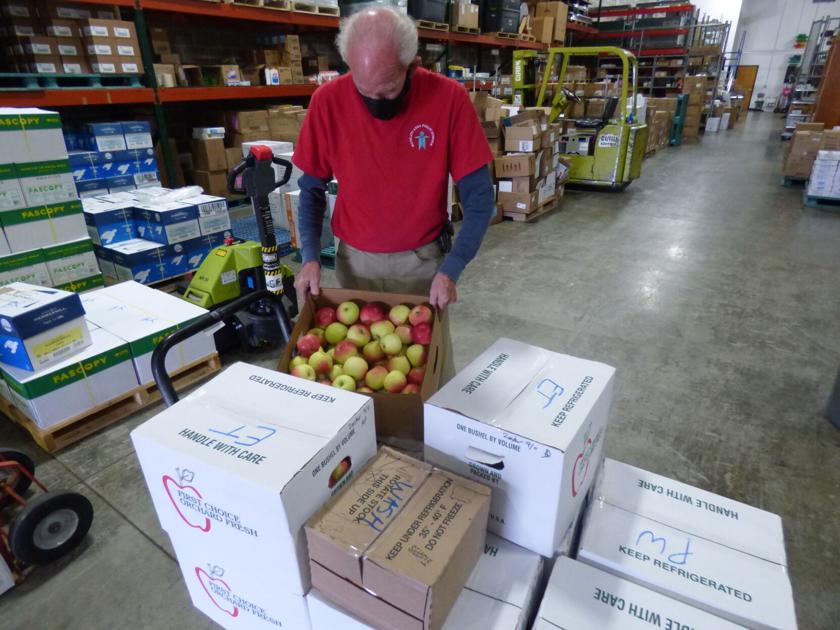 MANKATO — On Thursday afternoon, Mankato Area Public Schools' warehouse manager Ed Fischer opened up a new delivery of locally grown Zestar and Honeycrisp orchard apples destined for Mankato East High School, Prairie Winds Middle School and Hoover and Monroe Elementary schools.
"We're working with Montgomery Orchard," said Darcy Stueber, food service director for the district. "This is a new relationship for us."
Montgomery Orchard owner Scott Wardell said Mankato is the most recent district to source apples from his orchard. He also supplies apples to public schools in St. Peter, New Prague and Cleveland.
"I've been supplying schools in the area for eight or nine years," Wardell said. "These food service directors get the big picture, that they can have an impact on these kids when they serve them high-quality foods."
It's part of a growing trend among region-nine school districts, who are introducing more locally grown foods into their lunch programs from local farms, orchards and businesses.
Cleveland Public School was the first district in the region to begin sourcing local apples from Wardell's orchard thanks to the statewide Farm to School network, which connects schools with farmers in their area to source local fruits and vegetables.
"It's just as good as the grocery store, if not better," said Monica Manzey, food service director for Cleveland Public School. "The three favorites among the students are State Fair, Zestar and Courtland apples. It's teaching kids that you can get local food, and it could be your neighbor."
The Farm to School network is a collaboration of local, state and national partnerships. In Minnesota, that includes the United States Department of Agriculture, the Minnesota Department of Health and the University of Minnesota – with the goal of improving student health and education while strengthening family farms.
Minnesota Department of Education Nutrition Program Consultant Sami Burrington, who serves on Minnesota's Farm to School program's leadership team, said it's a movement that is gaining momentum each year, as more schools in Minnesota serve not just apples, but other fruits and vegetables as well as meat and dairy products from farms just down the road.
"The most recent data is from 2015, where we know roughly 270 school districts participated in Farm to School," Burrington said. "It was 18 in 2006 and 45 in 2011."
The Granada Huntley East Chain school district in Martin County connected with three local farmers to serve sweet corn on their lunch menu this year, along with pork patties from Maday Farms in Sherburn and chips from Weiss Milling Inc. in Welcome.
That district's food service director, Mary Jo Felion, said they are looking into serving students locally produced apples and squash this fall as well.
"With each day bringing new challenges with the pandemic, we will continue to promote local produce through lunches we send home when in the hybrid or distance learning model," she said.
Caroline McCourt, coordinator for the Statewide Health Improvement Partnership for Martin, Faribault, and Watonwan Counties, works with school districts in the region to secure not only locally sourced foods, but also agricultural curriculum to coincide with growing produce in the classroom.
"A lot of what we do is provide resources, education and when it fits, funding support," McCourt said.
McCourt helped Lucy Ammann, a 5th grade teacher for Butterfield-Odin Public School in Watonwan County, set up a tower garden in her class, with seeds and supplies, thanks to a SHIP funded grant awarded to the school two years ago.
"To really capitalize on being able to show students the growing process throughout the school year, tower gardens were a nice fit," said McCourt. "We work with the teacher to provide agricultural curriculum to have the educational pieces going along with it."
The indoor tower gardens — with four in Fairmont's school district, along with plans to set up another in Blue Earth — allow students to participate in the entire growing process throughout the school year, from planting to harvesting, McCourt said.
That first year, Ammann's 5th grade class raised two crops of about a dozen vegetables – from tomatoes, peas and cucumbers to basil, Swiss chard and spinach – tasting and learning about the vegetables they had harvested, before sharing their surplus produce with the rest of the school.
"It was a fun project and the kids liked it," Ammann said. "A lot of them hadn't tasted Swiss chard or bok choy. They did the harvesting; we did some cooking in the room and took some of our vegetables to the kitchen for the cafeteria."
Along with trying a new apple variety or vegetable, Burrington said many school districts are expanding the types of local foods they serve in their school lunch programs.
"It's not only fruits and vegetables, we see a lot of wild rice, especially in our Native American communities," Burrington said. "Given the pandemic, we see a lot of heat-and-serve items like all-beef hotdogs and turkey burgers. Some schools like Waconia have bought local ground flour where they make their own buns, so it can be everything on someone's tray – even milk.
For Stueber, apples proved to be a good starting point, and she plans to work with the Farm to School program to find additional opportunities for locally sourced food the following school year.
"I have 14 school locations with kitchens and we're rotating who is getting the fresh apples each week," Stueber said. "We hope to have them at all locations next year."