Fitness influencer's video on being trolled while pregnant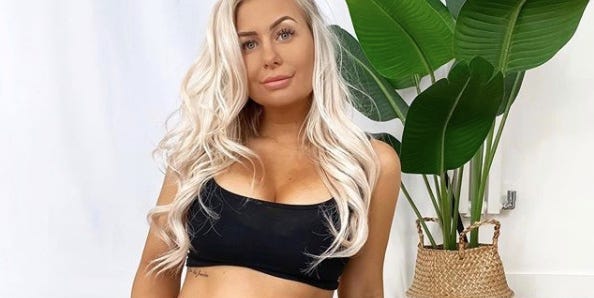 Pregnancy can be a brilliant, beautiful but challenging time for any woman. Your body is undergoing some huge changes, which can leave you feeling exhausted, with unusual cravings or swollen feet. The journey of her growing bump is something that popular fitness influencer, Jelly Devote, has been honest about with her followers throughout the last few months – but sadly, amongst all the support she's received there have also been trolls.
Luckily, Jelly isn't letting any negativity get to her during her pregnancy, as evidenced in the powerful video she posted, clapping back at the keyboard warriors. Looking glowing and happy in her Calvin Klein underwear set, with bump on display, Jelly shared some of the comments she's been subjected to recently. They range from people saying she's "harming her baby with her workouts" and "you can't breastfeed a baby with all that plastic in your body".
Working out while pregnant, generally, is perfectly safe (but if you have any concerns it's always best to speak to your doctor). In fact, the NHS advise expectant mothers to, "Keep up your normal daily physical activity or exercise (sport, running, yoga, dancing, or even walking to the shops and back) for as long as you feel comfortable. Exercise is not dangerous for your baby. There is some evidence that active women are less likely to experience problems in later pregnancy and labour."
This content is imported from Instagram. You may be able to find the same content in another format, or you may be able to find more information, at their web site.
Jelly also said that people have told her she'll "destroy her body" and that she "shouldn't be allowed to reproduce". But she's taking it all in her stride, writing to her 551,000 followers, "Things I've been told since getting pregnant. 🤦🏼‍♀️ Don't listen to any trolls online, listen to your body and baby, we are all different. You got this mama."
When it comes to further tips on exercising while pregnant, the NHS also advise that it's best to dial things back a little if your previous fitness routine featured a lot of intensive exercise (such as HIIT classes and hardcore spin classes). "As a general rule, you should be able to hold a conversation as you exercise when pregnant. If you become breathless as you talk, then you're probably exercising too strenuously."
They also recommend not suddenly taking up strenuous exercise while pregnant if that wasn't a part of your life before, "If you were not active before you got pregnant, do not suddenly take up strenuous exercise. If you start an aerobic exercise programme (such as running, swimming, cycling or aerobics classes), tell the instructor that you're pregnant and begin with no more than 15 minutes of continuous exercise, 3 times a week. Increase this gradually to daily 30-minute sessions."
Like this article? Sign up to our newsletter to get more articles like this delivered straight to your inbox.
SIGN UP
This content is created and maintained by a third party, and imported onto this page to help users provide their email addresses. You may be able to find more information about this and similar content at piano.io