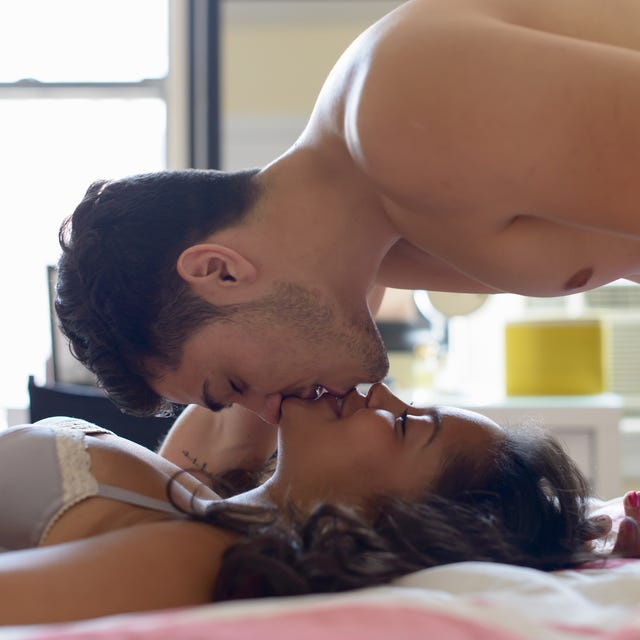 Matt DutileGetty Images
You've been hitting your at-home workouts hard this pandemic, and over the past six months, have started to see some gains. Look at you! While the rest of world was eating entire pizzas and binge watching Tiger King, you actually got your shit together and worked out. Now, my friend, it's time to show off… in bed. It's time to use those fitness skills to pull off some physically-demanding sex positions that require a bit of strength and flexibility.
Even though the sex positions on this list are super strenuous, they don't exactly double as a workout (sorry to burst your bubble). Unless you're having active sex for multiple hours on end, you're not going to burn that many calories. A 2013 study published in PLOS ONE concluded that men burn 100 calories during the average sex session, while women burn about 69 calories, but those figures are likely overestimated. The researchers found that men burn roughly 4.2 calories per minute during sex, while women burn 3.1 calories. Their results assume you're having sex for roughly 24 minutes, but most research suggest that vaginal intercourse usually lasts between three and seven minutes long. So really, you're probably burning closer to 21 calories during sex. Womp, womp.
Still, that doesn't mean you can't get show off with some fitness-centric sex positions now that you're swole. Here are 10 challenging sex positions that'll show off your new gains. Get a pump while pumping, my dude.
Advertisement – Continue Reading Below
The Mountain Climber
The Mountain Climber is like missionary, only you're propping yourself up with your arms. This position is also known as "The Push Up," so you'll need more than abs to pull it off successfully. You need to have strong shoulders, chest, and back too.
Yourself on the Shelf
Have your partner wrap their legs around you on the edge of the bed. From there, stand on up. You're going to need some serious quad and glute strength to pull this one off.
The Captain
With you parter on their back, hold up their legs in a "V" position. You can get some serious glute action in if you squeeze your butt while thrusting, but this position is also great because it shows off your chest and abs.
Fire Hydrant
Traditionally in the fire hydrant, you start in doggy style and then lift up one of your partner's legs and rest it on your thigh. But you can also lift up your partner's leg with your arm. This grants you more access to their sweet spot and gives you a little arm and shoulder flex.
Flatiron
Face down, ass up… The heavy-duty thrusting required in this position tires out most men after 15 seconds. But not you, my friend. You can keep going and get really deep inside your partner.
The Golden Arch
This position is a little tricky to get into. What you'll want to do is sit on the bed with your legs straight, and then your partner can sit on top of you. From there, get to business. You need to have strong triceps and shoulders for this position.
Happy Baby Pose
Once your partner is on their back, have them hold onto the soles of their raised feet. This is another great position for your partner to look up at you and see that built upper body.
Leap Frog
It's like doggy style, but your partner is resting on the soles of their feet, instead of their knees. In this position, you can use that new arm and wrist strength to hold them by their sides, and really thrust them into you.
The Butter Churner
Have you partner lay back with their legs past their head. Then you can dip your penis into their vagina or anus. (Be careful in this position. You don't want to injure your partner's neck!) This position is also known as "The Squat Thruster" because when you do it right, you're engaging in a deep squat. Squeeze both your glutes, baby.
The X-Position
Sit facing each other and raise one of your partner's legs. Then scooch on in. This position doesn't just require tricep and shoulder strength, it also requires a strong core to stable yourself.
This content is created and maintained by a third party, and imported onto this page to help users provide their email addresses. You may be able to find more information about this and similar content at piano.io
Advertisement – Continue Reading Below